Selling supplemental health insurance to seniors is a great opportunity for independent agents, and it's also a great solution for Medicare-eligible seniors.
Cancer Insurance stands out among the supplemental products for three reasons:
There's a clear and verifiable need for it
It's extremely affordable
The underwriting is so simple – you could have a history of cancer and still buy it
If you've thought about getting into Cancer Insurance sales but need a booster of confidence first, we've put together an ultimate guide for you. This is a compilation of everything we know about cancer plans, from statistics to product information to... eh, you get the idea.
Here's what we'll cover, and you can jump ahead at any time to whatever section interests you:
Also before we go on, you can learn everything about Cancer Insurance and so, so, so much more in the All-Star Training Program. Check it out!
---
The Need for Cancer Insurance
First of all, cancer is the second most common cause of death following cardiovascular diseases (Yale Journal of Biology and Medicine).
According to the latest research from the American Cancer Society, 39 out of 100 men and 38 out of 100 women will develop cancer during their lifetime. Your individual risks increase substantially if you have a history of smoking, a family history of cancer, or genetic susceptibility.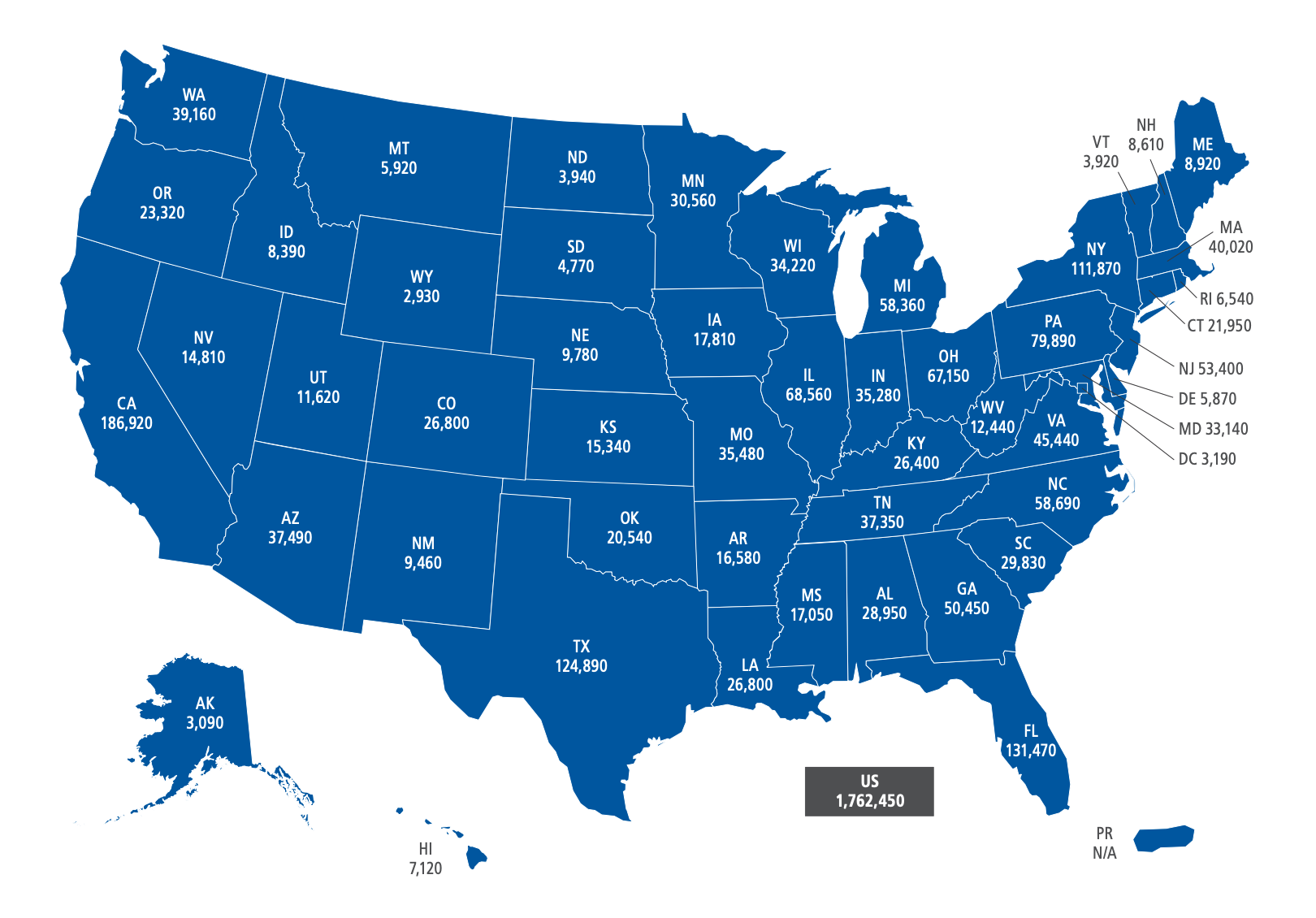 Estimated numbers of new cancer cases for 2019, American Cancer Society
The sheer likelihood of being diagnosed with cancer is high. Because of that all-too-real risk, we have to take a look at the Medicare system and confirm what out-of-pocket costs the cancer patient may have.
---
Medicare Doesn't Cover All Cancer Costs
If you're entirely unfamiliar with Cancer Insurance, your first thought might be that Medicare covers cancer costs, right? Well, sort of.
Medicare helps cover the medically necessary costs like cancer screenings, chemotherapy, and radiation therapy. A Medicare Supplement will pick up most of what Medicare leaves behind. However, what about all of the expenses that aren't medical?
Examples of non-medical, or indirect, cancer costs include:
Experimental medications and trial drugs
Transportation
Hotels/Lodging
Loss of income
Clothing and hair pieces
Deductibles and copayments
Indirect Cancer Costs Are a Big Deal
The American Cancer Society published in a 2019 report: "Despite universal access to health care, some costs of cancer care are not fully covered by Medicare and can be burdensome for older cancer patients with limited, fixed income."
When you actually look at the expenses of a cancer patient, a substantial amount of the costs are indirect costs that add up to tens of thousands of dollars. According to the American Cancer Society (cited in an Aetna brochure), 42% of costs associated with cancer are indirect.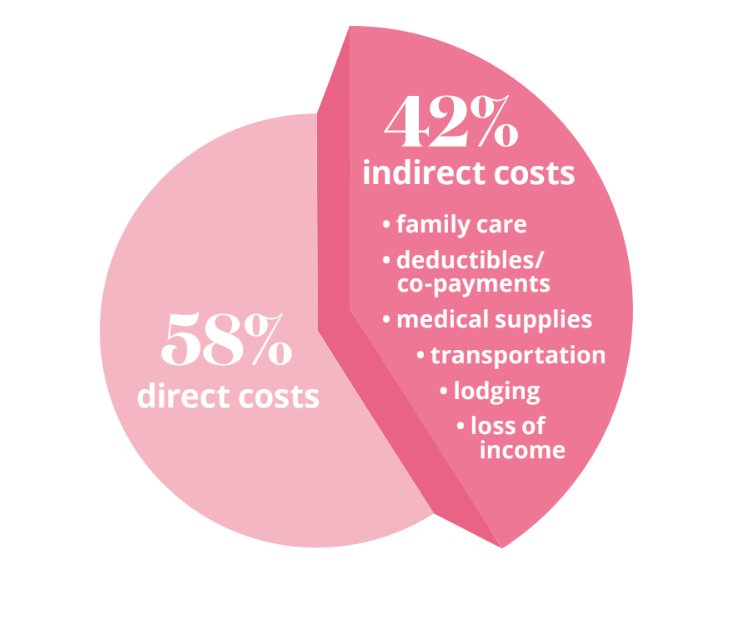 In a study done by Houts PS, et al, the non-medical costs of cancer are reported to be about 45% out-of-pocket expenses and 55% lost wages.
Transportation and food proved to be the largest out-of-pocket expenses. In addition, patients who lived a farther distance away from their treatment center experienced significantly higher out-of-pocket costs.
In a 2018 article from AARP, Peter Moore tells the story of VJ Sleight, who ended up with $30,000 in out-of-pocket costs after her 9 months of treatment. It took her 7 years to pay it off.
Location, Location, Location
The indirect costs of transportation and lodging are not to be overlooked.
Many travel out of state to receive a higher quality of care from specialized cancer centers. In fact, patients treated at one of a handful of specialized cancer centers had a 9% higher survival rate over 5 years compared to patients treated at community hospitals.
On top of that, the Sloan Kettering researchers found that patients treated at these hospitals had a 10% lower chance of dying in the first year than did patients who were treated at other facilities including community hospitals.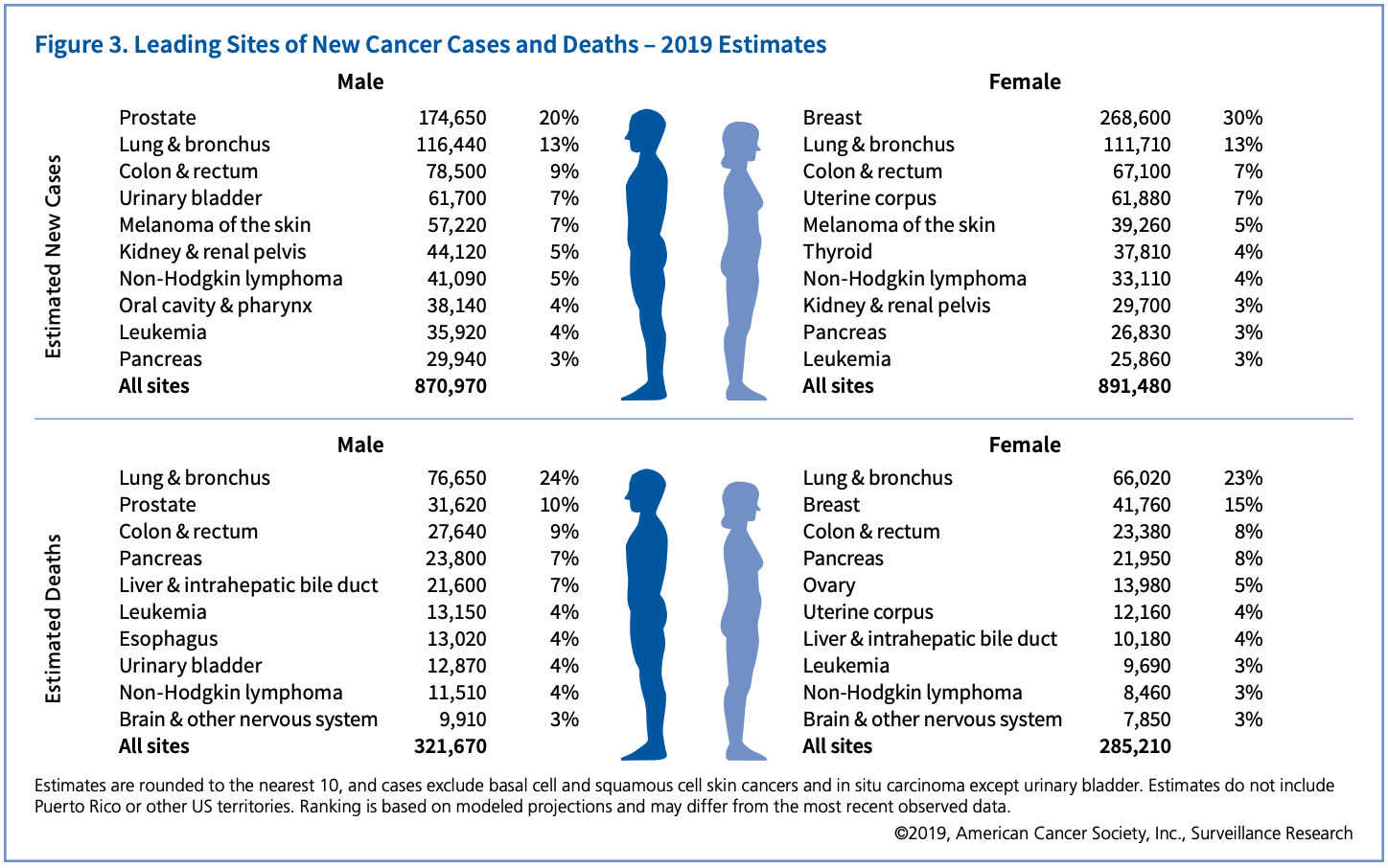 Leading Sites of New Cancer Cases and Deaths, 2019 Estimates, American Cancer Society
Currently, the top cancer hospitals are located in Houston, New York City, Rochester, and Boston.
That's quite the trek for many individuals, and costs associated with traveling include:
Fuel
Tolls
Parking
Taxis/Ubers
Rental car
Bus or train fares
Airplane fares
Hotel/Motel
Restaurants/Fast food
The bottom line is that if you're going to travel to increase your chances of survival! Who wouldn't?
That's why it's so important to have a plan for non-medical cancer costs.
Your Genetics Don't Always Matter
Many people think their risk of cancer is mainly based on their family history. However, we now know that inherited genetic mutations play a major role in only 5-10% of all cancers (National Cancer Institute).
Researchers have identified mutations in specific genes – such as TP53, BRCA1, BRCA2, PTEN – with more than 50 hereditary cancer syndromes, which are disorders that may predispose you to developing certain kinds of cancer.
However, that's only 5-10% of cancers! That means that around 90% of all cancers have nothing to do with your family history.
That's why we recommend all individuals – regardless of their family history – to purchase a Cancer Insurance policy.
---
How to Bring Up the Cancer Conversation
Once you understand the need for Cancer Insurance, it's time to bring it up with your clients and prospects.
However, cancer isn't exactly a super comfortable topic to bring up with a stranger. If you have a system in place for bringing up the cancer conversation, it'll feel natural for both you and your new clients.
If you've been reading our stuff for a while, you know where this is going... drum roll please...
Use the Client Needs Assessment!
This is the easiest way to ask your client about their experience with cancer, which will naturally open up the conversation for you. It's comfortable, personable, but not overly touchy.
It's Question #5 on the CNA: "Do you have a history of cancer in your family?"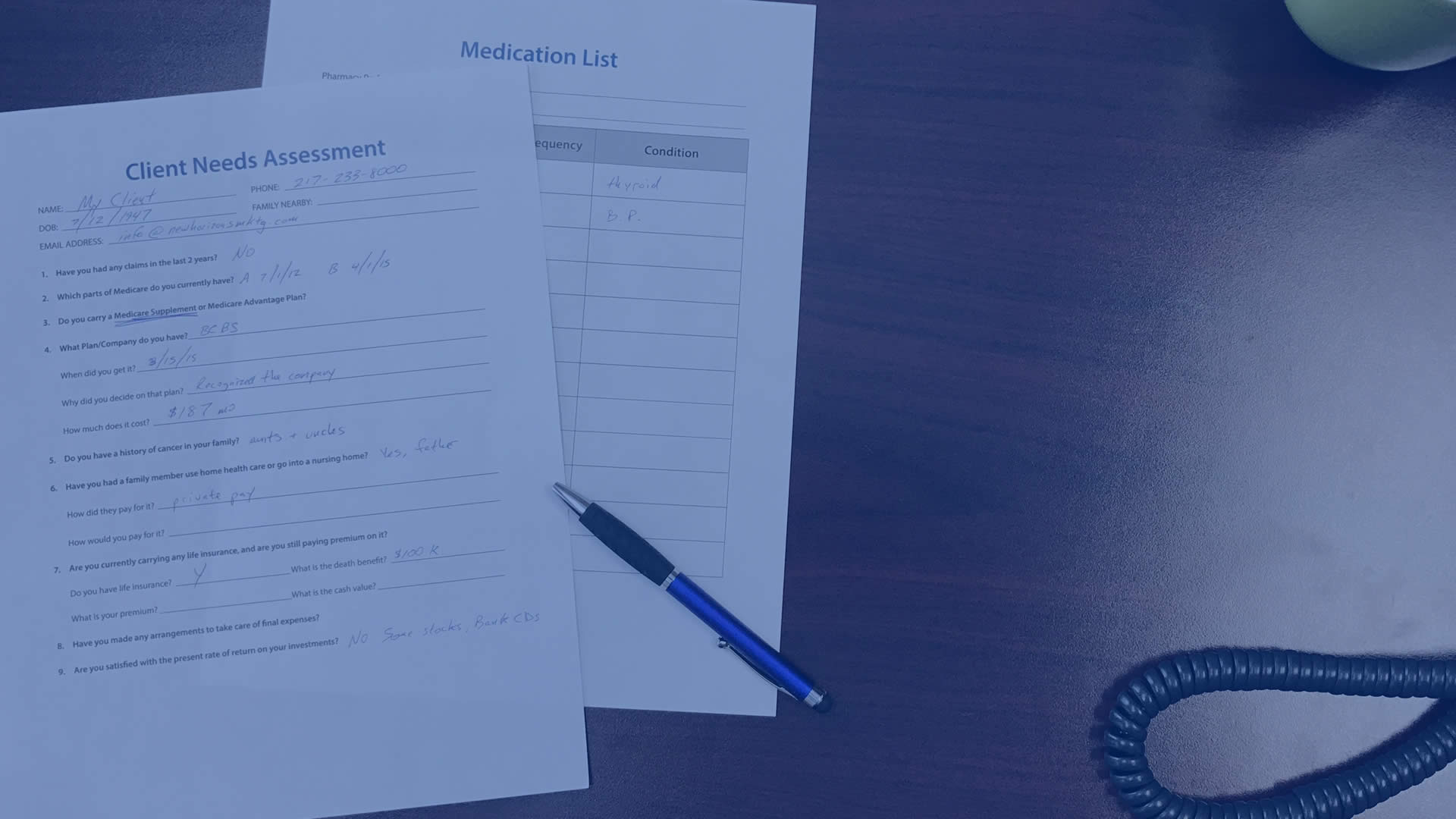 You could also ask it this way: "Do you have a history of cancer, heart attack, or stroke in your family?" Some cancer plans include coverage for heart attack and stroke as well, so that's an easy adjustment. (We'll cover those riders and additions later in this article!)
Once you ask that question, let them talk.
Too many agents suffer from talking too much, but if you just let them speak, you'll see that they're building the need for Cancer Insurance for you.
If they need some prodding, you can follow up with questions like: "Who was it that had cancer in your family?" and "What type of cancer was it?" Take them through the experience.
If your client says that have no experience with cancer in their family, you can roll right into the following statistic: According to the National Cancer Institute, only 5-10% of cancers are hereditary.
Even though it's not in their family, it's still a need you want to address with them.
Here's a short video I did talking you through the presentation and ultimately, how to sell Cancer Insurance. This'll help you see how I pare down all of this information to present to clients. (Note: this video was shot before new statistics were available – the presentation flows the same, but please swap out the newest statistics mentioned in this article where it applies!)
---
Cancer Insurance Types: Lump Sum and Schedule of Benefits
There are two kinds of cancer insurances – lump sum and schedule of benefits.
Each agent will likely have their preference, so we'd like to explain what each is and how they're different.
Lump Sum Cancer Plans
A lump sum plan is easy to understand, because once you're diagnosed with cancer, you get a lump sum of cash. (Well, technically a check.) It's really that simple.
The Aetna plan we referenced earlier is a lump sum plan with several benefit choices including $10,000, $20,000, $30,000, $40,000, and $50,000.
When you choose your benefit amount and sign up for the plan, you're guaranteeing that as soon as you receive a first cancer diagnosis, Aetna will write you a check for that amount.
You can use that money for anything you need – no exclusions or rules.
Schedule of Benefits Cancer Plans
For policies that have a schedule of benefits, it's a bit more complex. Standard Life & Accident follows this model and explicitly states what they'll pay for, and up to what dollar amount.
For example, they will pay up to $75 per day for a room in a motel, hotel, or other lodging facility. That benefit is not payable for lodging expense incurred more than 24 hours before the treatment, nor for lodging expense incurred more than 24 hours following treatment. The benefit is limited to 100 days per calendar year.
Another example from Standard Life & Accident's OLC is for a hairpiece. They'll pay up to $150 for the purchase of a wig or hairpiece – and that's a lifetime maximum.
Here's an Outline of Coverage you can scroll through to give you a better idea of what a Schedule of Benefits cancer plan looks like:
Our Thoughts on Cancer Insurance Types
We can get behind both plan options, but when thinking about the best interest of the client, the simpler is honestly the better. That's probably why Aetna's and Cigna's lump sum plans account for almost all of the cancer business we do here.
It's very easy for a client understand that cancer diagnosis = $20,000 check. (Or whatever amount they choose.) They can use that money for whatever they want.
Another big advantage to the lump sum option is that it can function as a replacement for loss of income. A schedule of benefits plan only pays on specific items, so that client won't be getting any money for everyday expenses that they can't afford anymore due to loss of income.
Another potential downfall of a schedule of benefits plan like the one we mentioned is that the maximums might not be high enough. For example, if you're going to New York City for specialized cancer treatment, your lodging is going to cost more than $75 per day.
Yes, some financial help is great, but at the end of the day, you're still going to be paying a significant amount for out-of-pocket expenses. But again, some coverage is better than no coverage.
It all depends on what your client is comfortable with and what you can stand behind as an agent. New Horizons offers Cancer Insurance carriers with both plan types.
---
Cancer Insurance Carriers We Represent
The Cancer Insurance carriers we currently represent here at New Horizons include:
As we mentioned, Aetna and Cigna account for most of the cancer business we do through New Horizons, but all of these carriers have great plans you should take a look at.
Here is a chart comparing them:
| | Aetna | Cigna | Medico | Standard Life | UNL | MOO |
| --- | --- | --- | --- | --- | --- | --- |
| Waiting Period | 30 days | 30 days | 30 days | 30 days | 30 days | 30 days |
| Plan Type | Lump sum | Lump sum | Lump sum | Schedule of benefits | Schedule of benefits | Lump sum |
| Benefit amount | $5,000 - $75,000 | $5,000-$100,000 | $10,000 - $25,000 | N/A | N/A | $10,000 - $100,000 |
| Issue ages | 18-89 | 18-99 | 18-79 | 18-75 | 18-79 | 18-79, 18-54 (term) |
| Guaranteed renewable? | Yes | Yes | Yes | Yes | Yes | Yes |
| Covers internal cancer? | Yes | Yes | Yes | Yes | Yes | Yes |
| Covers malignant melanoma? | Yes | Yes | Yes | Yes | Yes | Yes |
| Covers other skin cancers? | No | Yes | No | Yes | No | Yes |
| Eligibility requirement | No cancer in past 10 years | No cancer in past 10 years | No cancer in past 10 years | No cancer in past 5 years | No cancer in past 10 years | No cancer ever |
As you can tell from the chart, the Aetna, Cigna, and Medico plans are the most similar.
Mutual of Omaha actually offers an option between lifetime coverage or term coverage, which is very unique. You aren't eligible for term coverage at or after age 55, so if most of your clients are Medicare age, that option won't come into play.
One of the big differences with Mutual of Omaha is that the underwriting is a little tougher – if you've ever had cancer, you're not eligible for the product. For the rest of the companies, you can still get cancer insurance, even if you've had cancer before. That's often a huge consideration when dealing with individuals who want cancer insurance to protect against future risks.
Now that you have a general feel for the carriers we offer, let's take a look at the pricing.
How Much Does Cancer Insurance Cost?
When looking at the cost of cancer insurance, you might be surprised at just how affordable it can be.
Note: All rates shown are sample rates for the state of Illinois as of July 2019. For accurate rates, please refer to your state's most recent rate guide or quoting tool.
Let's first take a look at some lump sum options, since they're the more popular plan type.
Aetna's First Diagnosis Cancer Insurance
| Issue Age | $10,000 | $20,000 | $30,000 | $40,000 |
| --- | --- | --- | --- | --- |
| 65-69 | $28.33 | $56.66 | $85.00 | $113.33 |
| 70-74 | $32.50 | $65.00 | $97.50 | $129.99 |

If you're often dealing with those between the ages of 65-69, it's easy to just think of the Aetna benefit amounts as ~$30 for every $10,000 of benefit. That allows you to do some quick math when you need to.
Medico's policy is very similar to Aetna's; here's a quick look at their First Diagnosis Cancer rates. Keep in mind that this chart is different from Aetna's since Medico offers different benefit amounts. We're looking at $5,000 increments – not $10,000:
Medico's First Diagnosis Cancer Insurance
| Issue Age | $10,000 | $15,000 | $20,000 | $25,000 |
| --- | --- | --- | --- | --- |
| 65-69 | $29.00 | $43.50 | $58.00 | $72.50 |
| 70-74 | $32.00 | $48.00 | $64.00 | $80.00 |

As you can see, the Aetna policy is slightly less expensive in the 65-69 age range, but Medico is slightly less expensive in the 70-74 range. It's not enough of a difference to really matter to a client, so be sure to look at each carrier before deciding which one you're more comfortable working with.
For one more look at a lump sum cancer policy, here are sample rates from Cigna's Flexible Choice Cancer, which are slightly more expensive than the previous two options:
Cigna's Flexible Choice Cancer Insurance
| Issue Age | $10,000 | $15,000 | $20,000 | $25,000 |
| --- | --- | --- | --- | --- |
| 65-69 | $32.00 | $48.00 | $64.00 | $80.00 |
| 70-74 | $36.50 | $54.75 | $73.00 | $91.25 |
Cancer plans that have a schedule of benefits are going to be priced a bit differently.
Here's a look at Standard Life & Accident, which has three plan levels. You can take a look at the different levels in their brochure here.
| | Plan 1 | Plan 2 | Plan 3 |
| --- | --- | --- | --- |
| 65-69 | $60.88 | $79.45 | $108.38 |
| 70-75 | $72.09 | $94.98 | $129.56 |
And here's a look at UNL's plan, which has 4 plan levels, and you can see them spelled out here.
| | Plan A | Plan B | Plan C | Plan D |
| --- | --- | --- | --- | --- |
| 66-70 | $12.24 | $19.83 | $26.11 | $39.81 |
| 71-79 | $15.51 | $25.13 | $33.04 | $50.18 |
Also, just a random piece of information that may be useful at some point: when a policyholder goes on claim and receives a lump sum, it is not considered taxable income.
---
Heart Attack, Stroke, and Other Riders
Depending on the carrier that's offering the cancer plan, there are a number of different riders you can add to the base cancer policy for an additional charge.
They include:
Heart attack
Stroke
Intensive Care Unit Rider
Inflation Protection
Recurrence Benefit
Specified Disease Benefit
Lump Sum Rider
Return of Premium
Cash Value (only in Mutual of Omaha's plan and does NOT apply to anyone over age 65)
We'll go over a few of them so you have a general understanding of the extra options available to you and your clients.
Heart Attack and Stroke Coverage
The two most common riders or plan additions would be for heart attack and stroke.
Let's take a look at Aetna's Cancer and Heart Attack or Stroke plan. Adding on heart attack or stroke coverage doesn't change the plan at all other than the lump sum benefit will now also come into effect upon a medical diagnosis of a heart attack or stroke.
The pricing is obviously a little higher for the extra coverage, so let's take a look at how the added coverage compares to just the cancer plan.
Aetna's Cancer Plans, 65-69 Age Band (IL)
| | $10,000 | $20,000 | $30,000 | $40,000 |
| --- | --- | --- | --- | --- |
| Cancer | $28.33 | $56.66 | $85.00 | $113.33 |
| Cancer and Heart Attack or Stroke | $48.75 | $97.50 | $146.24 | $194.99 |
What's a Recurrence Benefit?
A recurrence benefit essentially allows the policyholder to be paid over and over again every time they get cancer.
Aetna has another cancer plan called "Cancer Plus Insurance Plan" that offers this recurrence benefit. The way it works with this plan is once you're first diagnosed with cancer, you're paid your full lump sum benefit. And if you want to be covered in case the cancer returns, the recurrence benefit is payable as long as medical advice or treatment hasn't been received for at least 2 years from the date of the last cancer diagnosis.
The amount you receive with the recurrence benefit is on a sliding scale based on how much time passed since the last cancer diagnosis:
Less than 2 years – no benefit
2-5 years – 25% of the benefit
5-7 years – 50% of the benefit
7-9 years – 75% of the benefit
Over 9 years – 100% benefit again
What's a Specified Disease Benefit?
The Specified Disease Benefit rider, as seen in Standard Life's cancer policy, offers an extra benefit if you're in the hospital for more than 12 hours due to one of diseases listed in their OLC. There are a bunch, but examples include Addison's Disease, Cystic Fibrosis, Epilepsy, Lyme Disease, Rabies, Tetanus, and Whooping Cough.
We can't say for certain, but the reason this is likely an optional rider is that cancer can often lead to additional diseases, and most cancer policies exclude them from coverage.
For example, in Aetna's exclusions, it explains that "any diseases other than cancer [...] even though other such diseases or illnesses may have been complicated, aggravated or be directly affected or caused by cancer" are not covered.
What's a Lump Sum Rider?
Some cancer plans that are built as Schedule of Benefits plans offer an additional option to be paid a lump sum if you're diagnosed with cancer. UNL offers this rider.
It's a way to combine a traditional lump sum plan with a plan that pays out based on a schedule of benefits in the OLC.
As you might've guessed, you're going to pay a lot more to have the best of both worlds. For example, with UNL, a 66-70 year old is looking at an added $26.80 per month for an additional $10,000 lump sum benefit.
---
Packaging a Cancer Policy with a Medicare Supplement
Something we run into a lot is a client who currently has a Medicare Supplement Plan F.
Mr. Gruening, now an independent agent out of Nashville, explains that transitioning the client from a Plan F to a Plan G with a Cancer Insurance plan is a home run.
In many cases, you can save them money while increasing their benefits.

Here's the Aetna brochure that Mr. Gruening talks about in the video:
If we do just a quick sample comparison here in the Midwest, you can see how packaging a G with a cancer plan makes sense financially.
Plan G with Cancer Plan vs. Plan F
| Plan F | Plan G | Plan G + Cancer |
| --- | --- | --- |
| $118.70 | $94.49 | $122.82 |
It costs just over $4 more for an added cancer benefit!
*Ahh, the fine print! Plan G and F are Great Southern Life (GSL) quotes in zip 62521 (Decatur, IL), for a 67-year-old female effective July 1, 2019. No household discount has been applied, and she's non-tobacco. Her name's Betty. Just kidding. The cancer plan included is quoted from Aetna for an Individual age 67, $10,000 lump sum benefit.
Keep in mind that this pricing doesn't involve discounts, so the cost savings could be even greater.
---
Closing the Sale
When it's time to actually ask for the sale, a lot of agents make a simple mistake.
They ask, "So, what do you think?"
Never do that! You never want to ask the person what they think, because it's the fastest way to kill the sale and lose all the momentum you've built.
You either want to take the strategy of packaging the cancer plan with a Medicare Supplement like we outlined earlier, or you want to present your client with three price options.
Ideally, you're writing those three price options down on a piece of paper and are instead asking, "Which one do you want?"
(With Standard Life and UNL, there's only one monthly price, so this wouldn't apply, but with the other three carriers, this is the best sales method.)
With a lump sum plan like Aetna's, it's simple – quote a $10,000 benefit, a $20,000 benefit, and a $30,000 benefit.
Nine times out of 10, the client will choose the middle option, which may surprise you.
Whatever you do, never start the sales presentation with price. You're building the need with the statistics we mentioned at the beginning and you're presenting how a Cancer Insurance plan fits that need perfectly.
Once you do that, you'll realize that this doesn't feel like selling at all. You're genuinely helping that client with a gap in coverage that Medicare nor their Medicare Supplement with cover.
And that's it! I know that was a lot of information to take in, but my advice from here is to choose a carrier that's available in your state and that you're comfortable with, and get some brochures.
We can help you order supplies – simply visit our Order Supplies page.
Once you have those brochures handy, be sure to have a rate sheet with you at all times that you can easily get out when needed.
Finally, don't forget to download the Client Needs Assessment — this will help you bring up the conversation naturally.
Thank you so much for reading, and good luck selling Cancer Insurance! Contact our team to get contracted if you aren't already.
Other content you may find useful: