Every October 15 begins the Medicare Annual Election Period (AEP), and agents run themselves ragged trying to meet with all their clients inside a 3-month time frame. Wouldn't it be helpful to be able to schedule those appointments without playing phone tag or sending 5 emails back and forth to find a good time?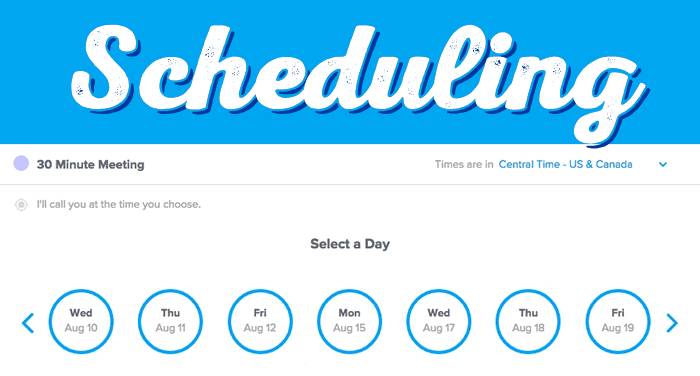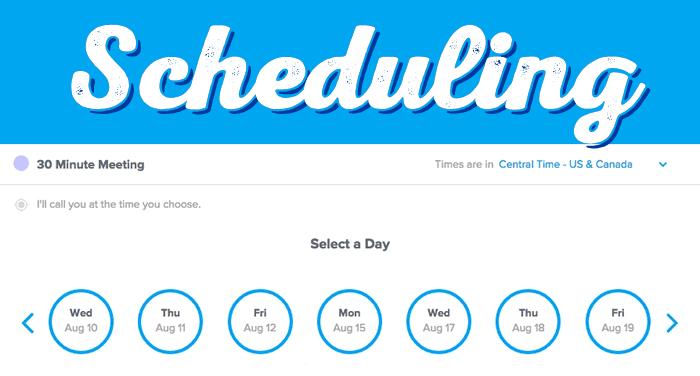 There are some amazing tools that will let your clients schedule their own meeting time, while being able to see exactly when you are available to meet. Even if you don't consider yourself to be "tech-savvy", you probably already have most of what you need to accomplish this.
How this works with your clients

Then they click the link, and a web page opens, showing all your available times. As soon as they choose one, it's no longer open to the next person. They confirm with a click, and they get an email confirmation, and you get a notification, and the meeting then appears right on your calendar without you having to do a thing. When the meeting time approaches, reminders get sent to both you and your client.Picture this - you send an email to all your clients, explaining that it's time for their annual policy review. You include a note saying how you are now accepting appointments and that they can schedule their own appointment by clicking the link at the bottom of your email.
But my clients don't have email! Well it's true that many don't, but maybe you just don't know their email address yet. We have email addresses for over 25% of our clients, and that number is growing. As a backup plan, and a way to get your client's email address, you can also send a letter in the mail, and include the link there.
What you need to get started

Your calendar(s)First, you need a digital calendar, either on your phone or your computer, or both. If you have an iPhone or a Mac computer, then you already have an iCloud account, which comes with a calendar. If your phone runs Android, or you have a Gmail account, then you also have a Google calendar. Similarly, if you have an Office 365 subscription, you'll have a Outlook calendar to work with.
If you aren't using your digital calendar, it's time to start. You must be religious about adding events to your calendar, whether it's a home or work calendar. If you schedule a meeting over the phone, it goes on your calendar. If you have a haircut or doctor appointment, it goes on your calendar. Placing all the events on your calendar is what lets the following tools determine whether or not you are available at a given time.
Calendly
The first tool we'll look at is named Calendly. If you have a Gmail or Office 365 account, or are running a recent version of Outlook, you can be up and running within 15 minutes. You simply sign in to calendly.com using the appropriate link for your email/calendar system (Google or Office 365). From there you're presented with a quick-start video that shows you exactly what to do.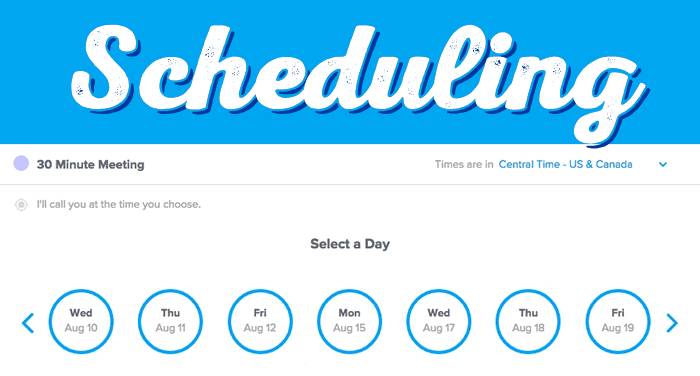 There are some pre-made event types, such as "15 Minute Meeting", "30 Minute Meeting", and "60 Minute Meeting".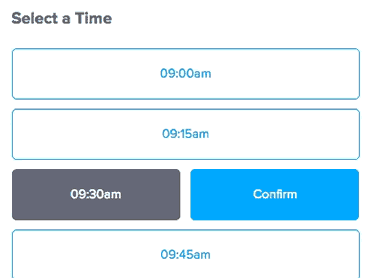 You can edit these or use them as they are. I recommend editing your events to set your available times first. This lets you block out weekends, or maybe you have a standing Wednesday tee-time, so you block out that day. Next you set your work hours. Maybe you're a 9-5 person, or 3-midnight. Now you have your time windows set, so the system will first look at whether you're available that day, then will check for scheduling conflicts from other events you've added to your calendar. Whatever is left is what gets shown to your clients.
After you've set your preferences, you can simply copy the link and share it with clients, or you can embed it into your website if you have one. Here's a working example showing my calendar on our website: http://www.newhorizonsmktg.com/team/jason-ferguson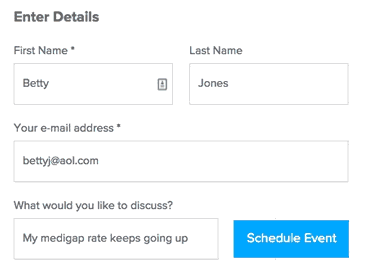 Calendly is free for a basic account, and advanced features and team scheduling for larger agencies requires a paid plan, starting at $8 per month. Details
YouCanBook.Me
If you use an Apple iCloud account or need more customization and advanced features, YouCanBook.Me (YCBM) is well worth a look. It's a little more involved when getting set up, but for agencies with multiple team members or the need to connect and cross-reference multiple calendars, it's a great system. YCBM's basic features work very much like Calendly, and can also connect to Google and Microsoft calendar accounts.
YCBM is free for a basic account, and advanced features such as text notifications and team scheduling for larger agencies requires a paid plan, starting at $10 per month. Details
Will it work for you?
There are dozens of scheduling apps out there, but these are two of the more popular ones. If you are disciplined enough to enter your events and appointments into a calendar system, then using scheduling software is a great addition to that. Some of your clients will be capable of setting their own appointments. Let them do that, and handle the rest however you've done it in the past. You'll surely see some time savings - if you don't, you can simply cancel your account, and go back to pulling your hair out for AEP.
Read Next: How to Prepare for AEP This Fall